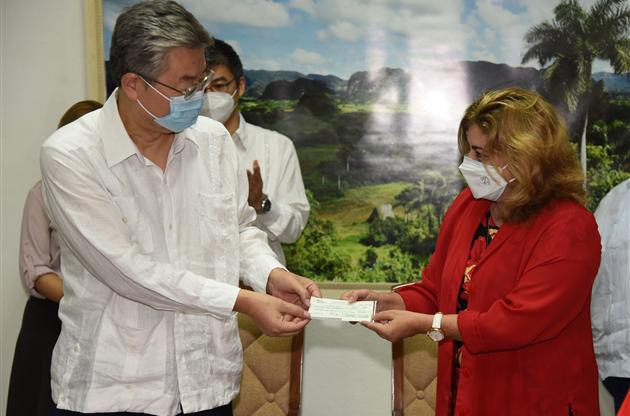 Havana, May 27 (RHC)-- The Chinese embassy in Cuba today donated 100,000 dollars to support the fight against Covid-19 and to compensate for damages after the accident at the Saratoga Hotel in Havana.
Upon delivering the check to Cuban authorities, the Chinese Ambassador, Ma Hui, affirmed that this aid expresses the friendship that unites both peoples and governments in the common effort to build socialism.
He stressed that bilateral ties are consolidated over time and in the permanent exercise of solidarity and ratified his country's willingness to continue deepening these ties.
The actions of the island's authorities in the face of that catastrophe demonstrated leadership and dedication to its people, he said.
For her part, Deputy Minister of Foreign Trade and Foreign Investment Déborah Rivas thanked the gesture, which she considered an important and timely aid, and recalled that since the beginning of the Covid-19 pandemic, in March 2020, that Asian nation sent to the island more than 100 tons of aid.
This donation demonstrates the solidarity sustained by the Chinese government and people with Cuba for decades and will contribute to the efforts against Covid-19 and in repairing the damage to the Saratoga and surrounding buildings, he said.