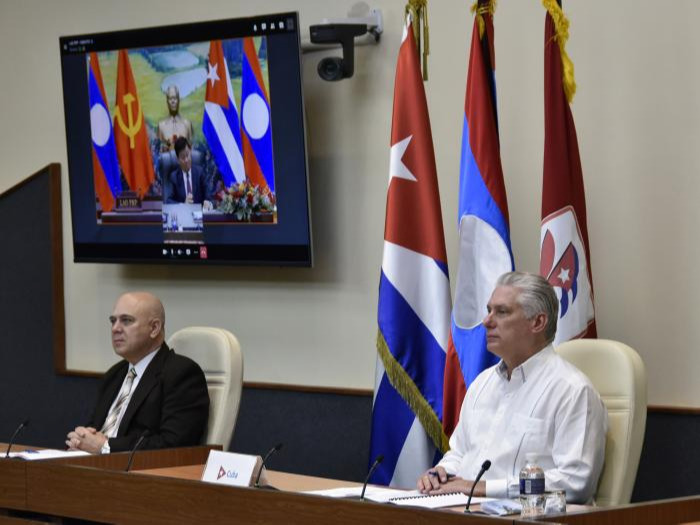 Havana, June 30 (RHC)-- Cuban President Miguel Diaz-Canel Bermudez and his Laotian counterpart, President Thongloun Sisoulith, held a fraternal virtual meeting on Thursday.
"Neither the geographical distance, language and cultural differences, nor more than two years of a pandemic have represented an obstacle to maintain increasingly consistent relations of friendship and solidarity between our countries," Diaz-Canel said in his conversation with Sisoulith.
We attach high priority and importance to the ties of friendship and cooperation that unite the peoples, parties, and governments of Cuba and Laos, stressed the Caribbean Head of State, who took the opportunity to extend a warm and fraternal greeting from  Army General Raul Castro Ruz.
In words of congratulation, Sisoulith expressed his pleasure for the meeting with Diaz-Canel and other Cuban leaders; he stressed that the meeting takes place at a time when both countries are implementing, respectively, what was agreed at the 11th Congress of the Lao People's Revolutionary Party (PPRL) held in January 2021, and the 8th Congress of the Communist Party of Cuba, held in April of the same year.
During the meeting, the leaders shared considerations on the main issues of the international and regional agenda and exchanged information on the respective situations in both countries.
Diaz-Canel thanked the Lao Party, Government, and people for their permanent support of the Cuban people and its Revolution, including the condemnation of the unjust U.S. blockade and the contributions to the COVID-19 confrontation.
"This confirms the unconditional support of Laos to Cuba and that in the most difficult moments, we can always count on their help," he said.
In addressing Laos-Cuba relations, the Cuban head of State proposed to boost bilateral economic ties and expand cooperation in health, education, sports, pharmaceuticals, biotechnology, and agriculture; issues that were also taken up by President Sisoulith, who said that he would personally deal with cooperation in the area of health.