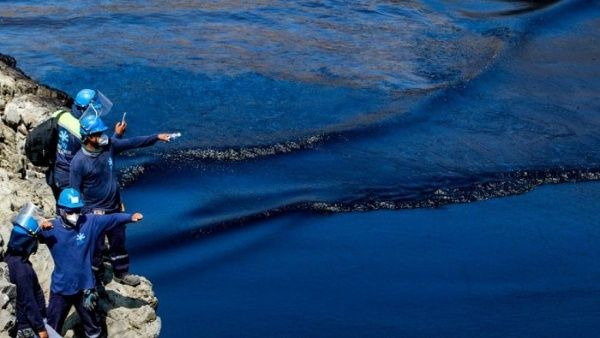 The Minister of Environment, Rubén Ramírez ratified that the Peruvian State will fulfill its role to protect the nation's ecosystems. | Photo: El Comercio
Lima, February 1 (RHC)-- The Peruvian Minister of Environment, Rubén Ramírez, reported that Lima is ordering the paralyzation of activities of the transnational Repsol in its territory, for not acting correctly after the oil spill occurred last January 15.
The Ministry indicated that the measure will remain active until the Spanish company does not show guarantees that another similar event will not happen in the future; and demonstrate clear actions to help mitigate the damage caused by the spill of about 12,000 barrels of oil in the Ventanilla region.
"The Ministry of Environment will not hesitate to fulfill its role as faithful caretaker of our natural ecosystems," said the environmental minister at a press conference to present some of the new measures following the oil overflow at the La Pampilla refinery managed by Repsol.
In addition to the stoppage of the Spanish company's activities, the other measure is the updating of the contingency plan for the La Pampilla refinery.  According to the text, the purpose of this provision is to incorporate new measures necessary to face disasters such as the one that occurred on the 15th.
In addition, the Ministry informed that 12 other administrative measures "aimed at placing barriers and developing recovery actions" were issued.  
On January 15, it was reported that a disaster occurred in the Ventanilla sea where about 12,000 barrels of fuel were spilled, contaminating 155 square kilometers of Peru's territorial waters.