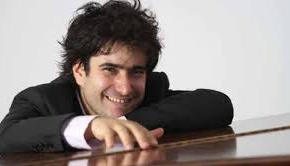 Piano virtuoso Harold López-Nussa
San Francisco, June 3 (RHC)-- This year's virtual edition of the San Francisco Jazz Festival began this Thursday, June 3rd, with a concert by Cuban pianist Harold López-Nussa from Havana, Cuba.
Harold was accompanied by his Jazz Quartet, made up of his brother, the award-winning drummer Ruy Adrián López-Nussa, violinist William Roblejo, percussionist Yaroldi Abreu and singer Kelvis Ochoa.
Organizers said that they are improvising this year and doing things a little differently due to COVID-19 pandemic. In that sense, the virtual edition of the festival will include 18 exclusive broadcasts featuring highlights from past Festival performances, world premiere concerts, a rare film on Thelonious Monk entitled 'Music in Monk Time: A Retrospective Tribute to Thelonious Sphere Monk', and more.
First launched as a two-day festival in 1983, the San Francisco Jazz Festival is the foundational annual June concert event upon which SFJAZZ was built.
The multi-week event runs through June 25 and will feature almost two-dozen archival performances.
The festival will feature such artists as Melissa Aldana, Brian Blade & The Fellowship Band, Jazzmeia Horn and Marcus Shelby. Other Cuban jazz artists, who will perform at the Festival include maestro Chucho Valdés, Michel Camilo, Gonzalo Rubalcaba.
The opening concert by Harold López-Nussa Quartet & Special Guests will be rebroadcast at 6 p.m. (San Francisco time) on June 6.
Meanwhile, Chucho Valdés, Michel Camilo & Gonzalo Rubalcaba will give a concert at 5:00 p.m. (San Francisco time) on June 25th, as part of the Festival's weekly streaming concert series 'Fridays At Five'.
Entitled 'Tribute to Ernesto Lecuona', the virtual concert will feature jazz versions of iconic tunes by the prolific Cuban composer. Cuban music and jazz lovers will have another chance to watch or listen to this concert on June 26.