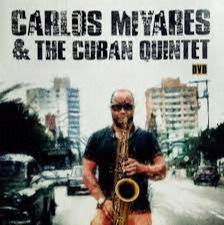 Carlos Miyares & The Cuban Quintet
Havana, June 8 (RHC)-- The tribute concert to maestro Chucho Valdés and the legendary Cuban band Irakere by Carlos Miyares & the Cuban Quintet is already available on digital platforms for lovers of Afro-Cuban jazz.
The concert took place in the framework of the 35th edition of the Jazz Plaza Festival, directed by saxophonist, arranger and composer Carlos Miyares.
Invited artists included also saxophonist German Belasco, trumpet players Aexander Abreu and Michael González, pianist Tony Rodríguez, pianist and keyboard player Harold López-Nussa, bassist Rafael Paseiro, drummer Juan Carlos Rojas, percussionists Yaroldy Abreu and Abel González and singer Mandy Cantero.
In the concert, these talented young musicians performed some of the best known, most iconic tunes popularized by Irakere band in the 1970s and 80s, among them 'Misa negra', 'Bacalao con pan' and 'Changó.'
Founded by pianist Chucho Valdés in 1973, Irakere was a seminal musical laboratory, where historic innovations in both Afro-Cuban jazz and Cuban popular dance music were created.
The winners of the Grammy Award for Best Latin Music Recording in 1980 with their album Irakere, the group used a wide array of percussion instruments like batá, abakuá and arará drums, chequerés, erikundis, maracas, claves, cencerros, bongó, tumbadoras (or congas), and güiro.