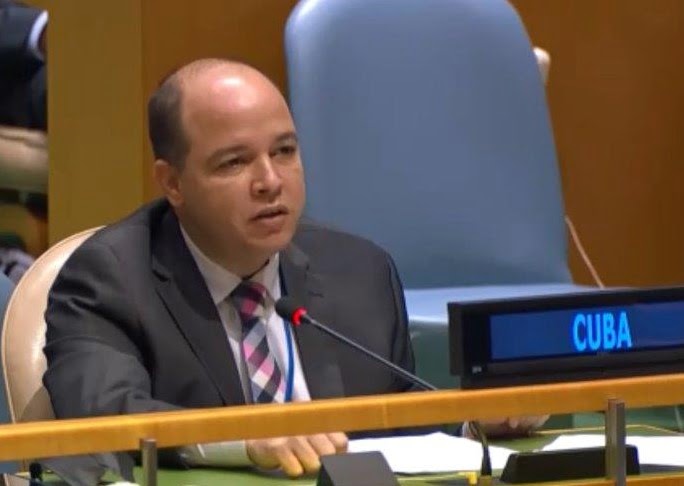 Cuba's deputy permanent representative to the UN, Yusnier Romero.
United Nations, December 1 (RHC)-- Cuba's Deputy Permanent Representative to the UN, Yusnier Romero, reiterated Wednesday the island's support for Palestine and condemned Washington's recognition of Jerusalem as Israel's capital.
"We once again reject the unilateral action of President Joe Biden's administration to recognize Jerusalem as the capital of Israel and to establish its diplomatic representation in that city, disrespecting its historical status," Romero condemned.
The international community cannot remain passive in the face of the increase in violence and the indiscriminate and disproportionate use of force against Palestinian civilians, in flagrant violation of the UN Charter and International Humanitarian Law, he added.
According to the Cuban diplomat, it is alarming that the Security Council remains silent in the face of this grave threat to international peace and security.
In the plenary session of the UN General Assembly, the Cuban delegation urged to demonstrate with facts and not with words the relevance of the UN for the people of Palestine.
A little over a month ago was the 74th anniversary of the partition of Palestine, which occurred in 1947, and 54 years of the illegal Israeli military occupation of Palestinian and other Arab territories.
Even though more than half a century has passed since the beginning of the conflict, he affirmed that the Middle East continues to be a pending issue for the United Nations.
According to the Cuban representative, the obstruction or repeated silence of the United States, an accomplice of Israel's occupation and aggression, is bringing the UN into disrepute.
"Despite the pressing need to advance towards the goals of the 2030 Agenda, Israel continues the occupation of the Palestinian territory, its policies.