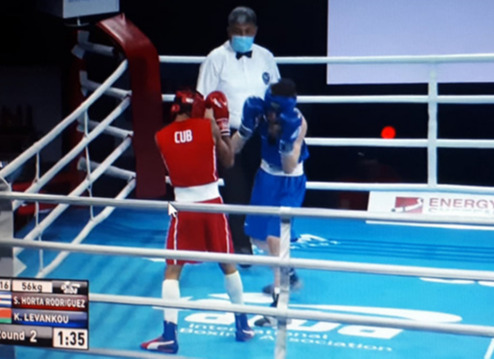 (Photo: Saidel Horta)
Warsaw, April 14 (RHC)-- Cuba celebrated two victories during the opening day of the World Youth Boxing Championship hosted by the Polish city of Kielce.
The credits of featherweight Saidel Horta and welterweight Dany Landys Lafó had different nuances, because while the former was all dominance over the Belarusian Kiryl Levankou, his teammate was overcome by the Mexican Marco Alfonso Verde.
The left-handed Horta did not believe in the challenge of facing an opponent of greater stature that blurred based on better movements, active defense and an effective punch with which he set the pace of the duel to celebrate a 5-0 decision (all 30-27).
Without being provoked by Levankou's offensive rebounds, the Caribbean player convinced and will return to the box on Saturday to cross blows with the Venezuelan José Gabriel Carfunjol, free on the opening day.
Lafó faced a well-placed opponent, but showed power in his attack and covered well the first two rounds. However, the Aztec's thrust increased in the next one, until provoking a protective count that became a prelude to the final bell.  
The judges issued a 3-2 split vote (28-29, 28-29, 29-28, 29-28, 29-28, 29-28) and the Caribbean fighter advanced to his next bout, scheduled for the day after tomorrow against the representative of the Czech Republic, Milos Beranek, who will make his debut at that time.
On Wednesday, the squad under the orders of coach Santiago Suarez has two more debuts: the light flyweight Yislan Barrera against the Turkish Mehmethan Cinar and the cruiser Jorge Felimon against the Armenian Henrik Tshghrikyan.