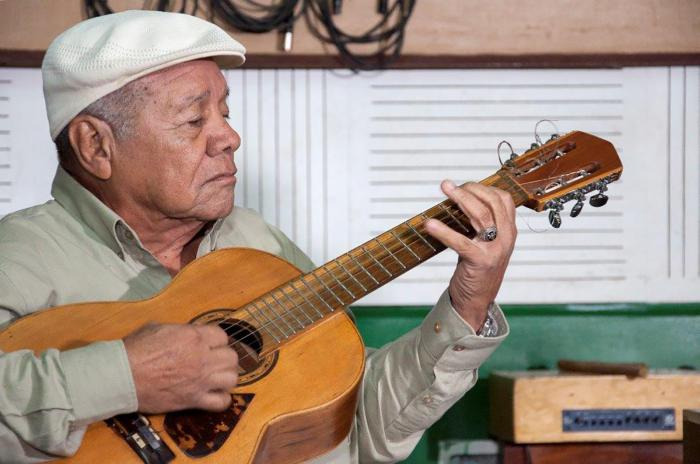 Trova musician Alejandro Almenares
Havana, March 21 (RHC)-- Trova musician Alejandro Almenares was awarded the National Culture Distinction, in the framework of the 58th edition of the "Pepe Sánchez" International Trova Festival.
The high distinction is in recognition for a life dedicated to defending and enriching Cuba's trova tradition, a genre rooted in eastern Santiago de Cuba and promoted all across Cuba and the world.
The 83-year-old Maestro stands out for his unique way of playing the tres and requinto instruments that differentiate his performances, with various groups and alongside other renowned artists with whom he has shared on stage.
Lázaro Expósito and Beatriz Johnson, president and vice president respectively of the Provincial Defense Council, presented the outstanding composer and guitarist with the high distinction at the ceremony held at the emblematic Casa de la Trova in that eastern territory.
Also, in the framework of the trova festival, the Siboney Studios, belonging to the Record and Musical Editions Company (Egrem), awarded Alejandro Almenares its Musical Excellence Prize in recognition for his significant, tireless contribution to the music genre and Cuban culture in general.
Almenares thanked cultural authorities and institutions in Santiago de Cuba for the gesture, as well as followers of his work who celebrated with him.
The 58th edition of the "Pepe Sánchez" International Trova Festival was dedicated also to the 60th anniversaries of the National Association of Writers and Artists (UNEAC) and of the historic speech by Revolution leader Fidel Castro known as 'Words to Cuban Intellectuals', and to the 35th anniversary of the Hermanos Saiz Association of Young Cuban artists.