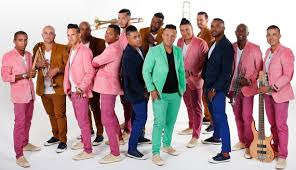 Maykel Blanco & Salsa Mayor
Havana, Sept. 8 (RHC)-- Cuban musician Maykel Blanco, leader of the orchestra Salsa Mayor prepare the release of a new album entitled 'Enfocado' (Focused) a co-production of MB Records and Unicornio label.
In Mini LP, the album, to be released in october, includes six tracks, five of them written by Blanco himself and one by Jorge Díaz.
One of the tracks included in 'Enfocado' is the hit 'Pa' los mayores y los Van Van', released as a single on digital platforms in December 2020, with an accompanying music video, as tribute to the iconic band founded by Cuban maestro, the late Juan Formell.
Maykel Blanco said the new album targets both, those who want to dance and those seeking to just seat down and listen, enjoy good Cuban music.
The leader of Salsa Mayor highlighted the role of digital platforms to promote their work in times of Covid-19. He pointed to some valuable projects born during this difficult period, particularly the Alianza Musical (Musical Alliance Project), created at the initiative of legendary musician Adalberto Álvarez, who died on September 1st last due to complication associated with Covid-19.
Blanco stressed that several Cuban musicians have joined the project to record concerts and albums, and that they will honor and continue the legacy of Adalberto, also called El Caballero del Son (the Gentleman of Son Music).