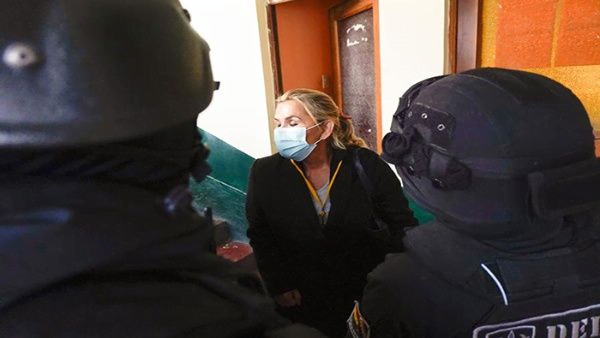 Bolivian coup president Jeanine Áñez pleads silence after her arrest
La Paz, March 13 (RHC)-- The former de facto president of Bolivia, Jeanine Áñez, after being arrested early this morning in Beni and being transferred to a unit of the Prosecutor's Office in La Paz, invoked her right to silence on Saturday.  
After spending the early morning hours in the facilities of the Special Force for the Fight against Crime (Felcc) at the Government headquarters, Áñez was taken to the Public Prosecutor's Office and then returned to her jail cell.  The coup leader is being investigated under the accusation of sedition, conspiracy and other crimes in a process initiated by the former MAS deputy, Lidia Patty.
Likewise, the former ministers of the de facto government, Álvaro Coimbra and Rodrigo Guzmán, also pleaded silence before the Prosecutor's Office, for which reason they would also have to be charged by the Public Prosecutor's Office in order to set a date and time for a hearing on precautionary measures.
Coimbra and Guzmán were arrested and later transferred to the capital city of La Paz to give their statements to the Public Prosecutor's Office.  The whereabouts of Núñez are unknown, while Murillo and López are fugitives and fled to the United States several months ago, where they are hiding from justice.
The former de facto president said that the process against her has "neither head nor tail," denounced that the MAS is behind everything and stressed that she assumed the presidency by "constitutional succession."  She also claimed that the "coup d'état never happened."