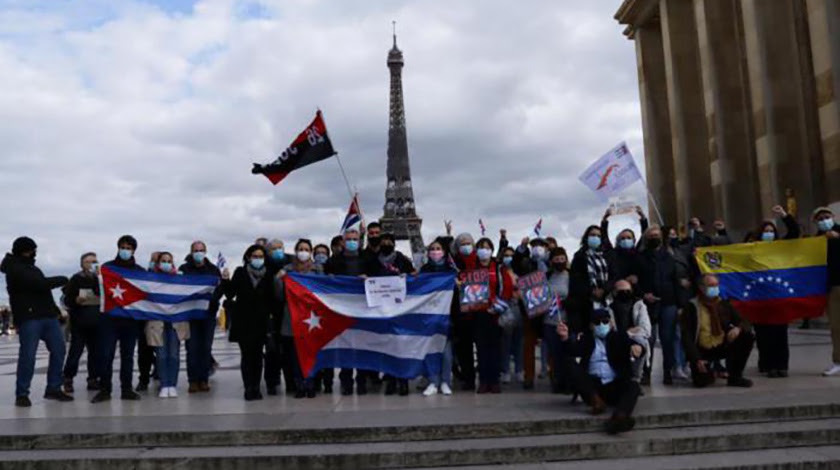 Participants of Caravan in solidarity with Cuba and against the US blockade, Paris. France. March 28, 2021.
Havana, March 28 (RHC)-- Cuban Minister of Foreign Bruno Rodríguez Parrilla, participated on Sunday in the caravan against the U.S. economic blockade on Havana's sea front-drive, the Malecon,  and thanked the expressions of solidarity with the island received from some 50 cities around the world.
In statements on social media, the minister emphasized the genocidal nature of this economic, commercial, and financial siege that the U.S. government has intensified in the face of the current epidemiological situation generated by COVID-19.
Rodríguez reiterated that the U.S. blockade is a crime. "It is illegal, immoral, extraterritorial, and a violation of international law," he said.
In statements to Prensa Latina, foreign ministry official and youth leader, Marta García, said that this siege has intensified in a challenging year for the world and is causing hardship to the Cuban people.
"I am here today first of all to thank the movement of solidarity with Cuba that has mobilized around the world to say down with the blockade," she said."
She also emphasized the importance of the world knowing about the existence of this siege.
Every human being who considers himself a good person should keep in mind every day that the Cuban people remain under this blockade, the right to develop as a normal country has been taken away from us, he said.
Hundreds of young people from Havana joined today the worldwide caravan against the hostile U.S. policy in activity along the capital's Malecon.
In Havana, representatives of Cuban youth participate in the caravan against the blockade imposed by the United States on Cuba.
Likewise, some 70 localities in the United States, Canada, and other countries demanded an end to Washington's economic blockade and are joining the Bridges of Love initiative in solidarity with the Caribbean island.
The editor-in-chief of Diario Latinoamericano and administrator of the NoBloqueoCuba.com website, Manuel Tejeda, told Prensa Latina that the U.S. cities of Tampa, Hartford, Holyoke, Albany, Detroit, Chicago, and Minneapolis are joining the project for the first time.
Groups of emigrants and friends of Cuba in Russia, Italy, France, Germany, Namibia, Gambia, Angola, Mexico, Argentina, Colombia, among dozens of other nations have already carried out mobilizations, declarations, publications on the web and actions to demand the end of the siege.
Images from Havana taken from Yaira Jiménez Roig Facebook