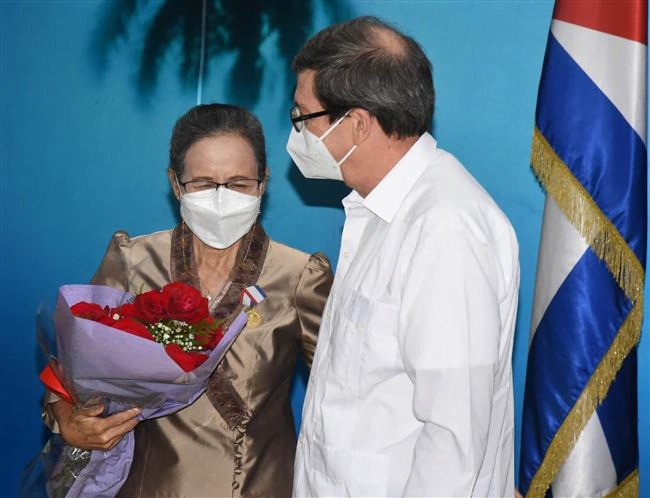 Havana, June 2 (RHC)-- Cuban Foreign Minister Bruno Rodriguez presented the Friendship Medal to the ambassador of the Lao People's Democratic Republic, Anouphone Kittirath, for her contributions to strengthening bilateral ties.
During the ceremony at the Foreign Ministry headquarters on Wednesday, Deputy Foreign Minister Elio Rodriguez acknowledged the valuable contribution of the diplomat in deepening the ties between the parties, governments, and peoples of the two States.
He pointed out that Havana's political dialogue with Vientiane is a priority and praised the reciprocal solidarity, as seen in the donations sent by the Asian nation to help in the fight against the Covid-19 pandemic.
The Vice Minister highlighted Kittirath's stamp on the smooth coordination of bilateral positions and mutual support in international forums.
He also emphasized Laos's unwavering support in the fight against the  U.S. Blockade, which is considered a violation of human rights.
The ambassador, who is concluding her mission in Havana, expressed her gratitude for the recognition and assured that since the establishment of diplomatic relations on November 4, 1974, the ties between the republics have become stronger and stronger.
Kittirath also ratified her country's willingness to continue strengthening cooperation for mutual benefit and the region's development and the commitment to "support the just causes of the brotherly Cuban people."