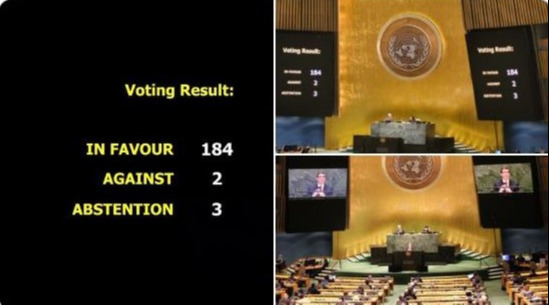 Twitter
United Nations, Jun 24 (RHC)-- The international community once again ratified the U.N. General Assembly's rejection of the blockade imposed on Cuba by the U.S. government, which remains isolated in its unilateral efforts.
On Wednesday, 184 member states of the United Nations voted to lift the U.S. siege against the Caribbean island. Ukraine, Colombia, and Brazil abstained, and only two supported the maintenance of this mechanism: the United States and Israel.
Cuban Deputy Foreign Minister Anayansi Rodriguez said on Twitter that 49 speakers raised their voices against the U.S. blockade in the General Assembly, six of them representing groups of countries.
The Caribbean Community, the Group of 77 plus China, the Non-Aligned Movement, and the Association of Southeast Asian Nations were some of the international blocs rejecting Washington's coercive measures.
In addition to denouncing the tightening of the U.S. blockade during the Covid-19 pandemic, many highlighted Cuba's solidarity in the face of the health crisis and how, despite the obstacles, the island could successfully develop its vaccine candidates.
Meanwhile, Chinese Ambassador Zhang Jun explained the serious damage that unilateral coercive measures caused to international relations and stressed that all countries have the right to take action in this regard.
He also regretted the persistence of the U.S. blockade, although the members of the U.N. General Assembly have voted against it forcefully and consecutively for the last 28 years.
For his part, the Bolivian ambassador to the UN, Diego Pary, described the U.S. blockade as illegal, inhuman and criminal and recalled that Washington maintains old practices of punishing those who do not agree with its vision.