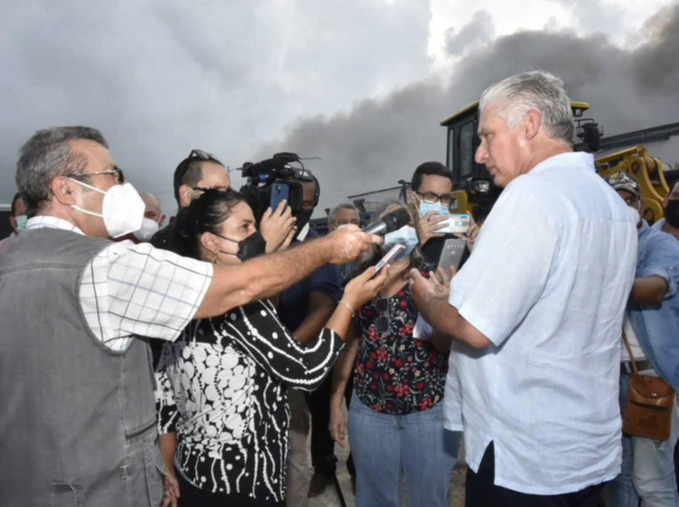 Havana, August 9 (RHC) - Cuban President Miguel Díaz-Canel visited Tuesday the area of the massive fire in the industrial zone of the western city of Matanzas.
In statements to the press, he said that Tuesday had been the least bad of the days and that he could confirm it because of what he saw and all the virtues of the forces working on the disaster site.
He added that an essential first stage of control had been achieved, thanks to the strategy drawn up jointly by the Cuban, Mexican and Venezuelan forces and to the work of the builders and the hydraulic workers. They created the retaining walls, which prevented the flames of the fire from spreading in the most challenging moments.
He also acknowledged the work of the Ministry of the Interior, the Revolutionary Armed Forces, the comrades operating the helicopters without rest, and the troops from Venezuela and Mexico who came with tremendous commitment.
The Cuban President insisted that the confidence in the result should not take away the capacity to think because there are still possibilities of the fuel catching fire again.
He underlined that a search would be carried out to recover the bodies of the firemen who offered their lives in the first confrontation to the incident, associated with the pain of the families who had been anguished for days eager to know about their loved ones.
Diaz-Canel said a survey of all the damages and affectations would also be carried out to program the restoration works of the supertanker base.