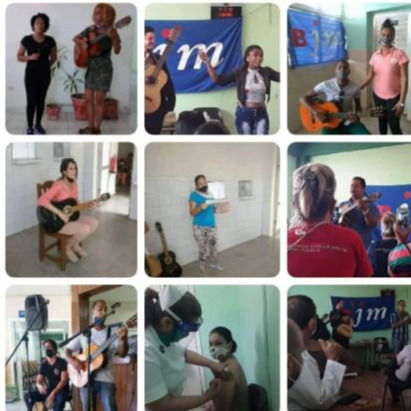 Cuban artists performing at vaccination sites in Havana
Havana, June 1 (RHC)-- Cuban Culture Minister Alpidio Alonso highlighted the support of Cuban artists for efforts toward immunizing the population against Covid-19.
Alonso praised, particularly, the presence of both established and young artists at vaccination sites, set up in different municipalities of the capital, Havana, as part of the ongoing clinical trials and the health intervention, using two homegrown vaccine candidates (Abdala and Soberana 02) against the Sars-Cov2 virus that causes the deadly disease.
On his Twitter account, the top Cuban culture official celebrated the initiative, which involves creators, exponents of all artistic disciplines, members of the National Association of Writers and Artists, the Hermanos Saiz Association of Young Artists, even students with the San Alejandro National Fine Arts Academy.
Minister Alpidio Alonso called to replicate the experience, which includes also book presentations, sales and poetry reading, in other territories, across the country, in support of such a complex, but noble cause for health and life.
Cuban health authorities reported that more than 1 million, 70 thousand Cubans have already been administered at least one dose of any of the two Cuban vaccine candidates against Covid-19 in advanced stage of clinical trials.
Plans are to have the entire Cuban population vaccinated with homegrown vaccines before the end of 2021. Cuba is determined also to assist immunization programs in other nations around the world.